First, thanks a Billion to the primordial Billionaires (Billionaires For Bush) for starting this meme. Much of the verbiage and the pig graphic has been bastardized from the original NYC group. Huzzah!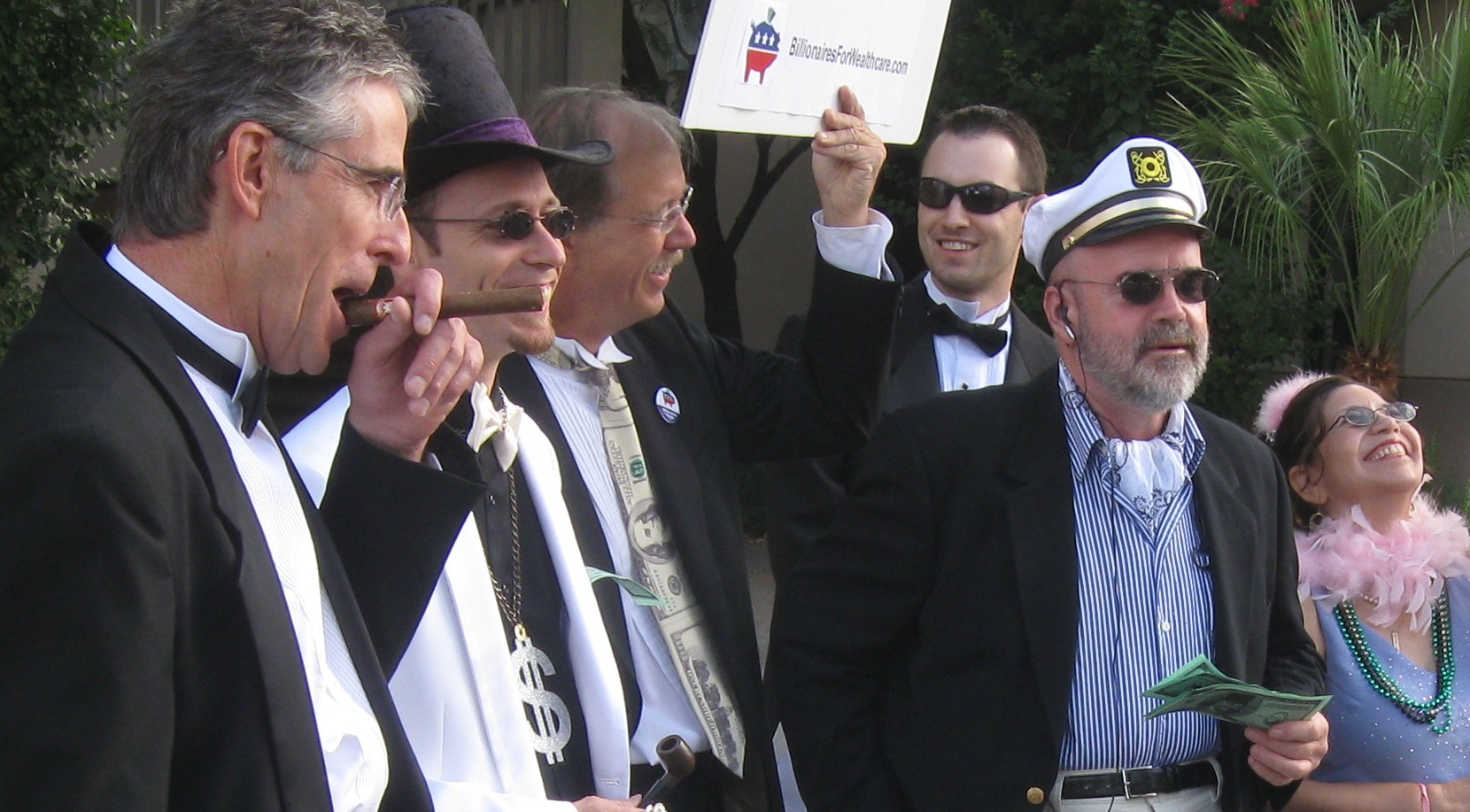 Motivation
So, you want to be a Billionaire? Excellent idea! We're here to help. Keep reading and you'll be obnoxiously rich in no time. Once done, you and other like-minded Billionaires will be ready to stage events to show your opposition to Bernie Sanders anywhere…anytime.
We have always preferred to wield our influence from back rooms at the Capitol or the back nine at the club. Nonetheless, desperate times call for desperate measures. Now Billionaires must make public appearances — as Billionaires — if we intend keep our hold on unchecked influence of elections and policies at all levels of government.
Billionaires can be useful at Bernie rallies and other events/debates where he and other presidential candidates are present. By "counterprotesting" the Berniacs, we help get their message out.
Look The Look
Dress
Image is everything. Wearing suitable attire is a fundamental element of how we communicate. Billionaires should dress to impress…and oppress, of course!
Remember, we make a bigger and more powerful impression when we appear unified and dignified.
Stay together as a group, remaining distinct and separate from non-Billionaires. Our impact is lessened when ordinary protesters, all ratty in blue jeans and backpacks, try to mingle with us.
Appearances are everything. Formal dress is required.
It is important to preserve the traditional image of the Billionaire in America. Formal is Normal. It is not only crucial to sport the right attitude, but to sport the right suit and shoes as well.
For men:
• black tux or suit, white shirt and dress shoes. Optional accessories: money tie, bowtie, bowler hat, cigar, monocle, white gloves, cummerbund, suspenders, cane. Also acceptable: crisp white pants, polo shirt, blazer, ascot and yachtsman's cap.
For women:
• floor or knee-length gown, pearls, fancy scarf and heels. Optional Accessories: furs, diamonds, opera gloves, cigarette holder, tiara. Also acceptable: insurance exec business suit and heels or yachting attire.
Absolutely no jeans, tshirts, sneakers or workboots, fun as it might be to imagine what it's like to actually work for a living.
Names
As a billionaire, you must make a good name for yourself (or at least borrow one from your parents). Here are some famous Billionaire names to consider:
Bill M. Moore
Billie O'Nair
Frida Market
Lou Pole
Phil T. Rich
Z. Roe Compassion
Dee Regulation
Rich R. Danu
Talk The Talk
Below are some chants and one-liners. For best results, strive for brevity, humor and specific content which shows why only wealthy people should be opposing Bernie and his crazy ideas of getting money out of politics.
Also be prepared to give a brief, witty, complete statement to the media.

Chants
Hey Hey, Ho Ho, Bernie Sanders has got to Go!
One, two, three, four. We have billions, We want more!
Profits Over People!
All we are saying…is give Greed a chance. (like "Give Peace a Chance")
Your pain, our gain.
Wealthcare, Not Healthcare!
One-Liners
Billionaires own this country! So love it, or leave it!
We Billionaires are a minority in this country.
When it comes to the presidency, let the market decide.
Raise the Minimum Voting Income! (from $0 to something ridiculous)
Sanders is clearly a shill for the middle class.
Who needs infrastructure?
Hooray for Dark Money!
You villagers should inherit your money, like the rest of us.
The system works great — for those of us that own it! (end with "Huzzah!" and/or high five)
Keeping our profits healthy will require some sacrifice. Not on our part, of course.
You

villagers

deserve the politicians that we decide to buy for you.
Eliminate the Minimum Wage!
Bernie is a Divider! He wants to break up the banks!
Wall Street Rules!
Signage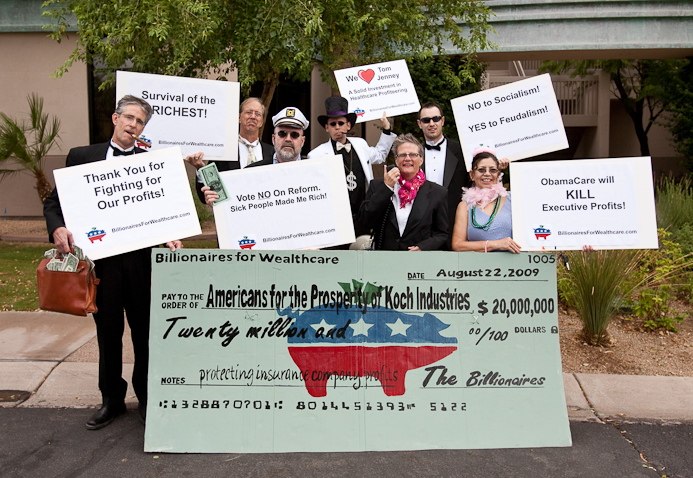 The medium IS the message, and we own the medium. We get our message across most effectively with clean, professional-looking signage. But expensive-looking doesn't have to be expensive. Go to the Signs page to DOWNLOAD our signs; and read the instructions on how to prepare them for class war!
Remember: while it is perfectly appropriate to have illuminated manuscripts of our stock portfolios painstakingly painted by children in sweatshops, hand-lettered signs have no place at our events.
Pics and Video
The bottom line is: If there's no pics or video, then it didn't happen.
Ideally, you want to be covered by local TV or newspapers. But sometimes, that just doesn't work out. Damn liberal media! I know.
So, it's up to us to cover ourselves. This is especially a great job for those who want to participate but are not appropriately dressed or don't want the spotlight. For every action, you will always want one person assigned to taking pics and/or video. If there are two, that's perfect…one doing pics and the other video. When desperate, recruit someone (or more than one) on the spot and have them send you the pics.
Once your event is done, compile your best pics (and even create your own video for Youtube), and send it to us so we can add it to the website. Be sure to include who, what, when and where.
Find Local Billionaires
Connect with other Billionaires who may be hiding in plain sight…within local Bernie groups or other like-minded political organizations. By now, there is bound to be a Bernie Facebook page in every city/state. We've found Progressive Democrats of America (PDA) to be a good source of great Billionaire-wanna-be's. You can also use our Facebook page to try to find actions, events and other billionaires near you. If all else fails, send us a FB message or email us with button on website.
More on Actions/Events
See our "Tips for a Successful Action" for more tips and tactics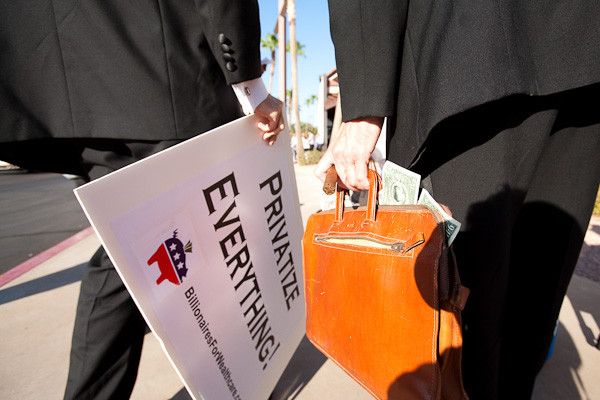 ---
Posted on | September 6, 2009 | Comments
Comments
2 Responses to "BE A BILLIONAIRE"