Posted on | July 27, 2015 | Comments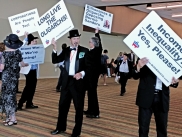 At Netroots 2015 in Phoenix, we Billionaires bravely fought back against Bernie Sanders and his vitriolic rhetoric that he has been spewing against the way that our supreme wealth influences campaigns and policies in this great country. Indeed. We spoke Power to Truth. The poor Berniacs didn't know what hit them.
We tried to take the high road (usually in our platinum-plated Hummer Limo), but Bernie kept harping against how Billionaires and Oligarchs rule this country…as if it were a bad thing. As if there were some other way? Ha ha ha! So we skipped our morning mimosas and marched out to Bernie's event (we were driven, truth be told) to give them a very expensive taste of our displeasure.
Our video is here:
Comments