Billionaire Videos
Posted on | August 28, 2015 | Comments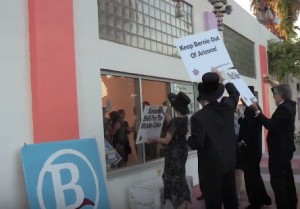 On Saturday Aug 2 2015, we Billionaires took a stand against Bernie Sanders and his middle-class minions. As they rubbed dirty elbows inside and snacked on food that they had to prepare themselves, we gave them a dose of our Billionaire attitudes and platitudes whilst sipping French champagne worth more than the very building they were standing in.
.
.
.
See the video here:
Posted on | July 27, 2015 | Comments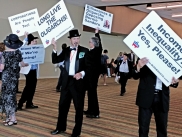 At Netroots 2015 in Phoenix, we Billionaires bravely fought back against Bernie Sanders and his vitriolic rhetoric that he has been spewing against the way that our supreme wealth influences campaigns and policies in this great country. Indeed. We spoke Power to Truth. The poor Berniacs didn't know what hit them.
We tried to take the high road (usually in our platinum-plated Hummer Limo), but Bernie kept harping against how Billionaires and Oligarchs rule this country…as if it were a bad thing. As if there were some other way? Ha ha ha! So we skipped our morning mimosas and marched out to Bernie's event (we were driven, truth be told) to give them a very expensive taste of our displeasure.
Our video is here:
Posted on | July 14, 2015 | Comments
We're mad (and rich) and we're not going to take it anymore! Bernie Sanders has been trashing us long enough.
We've decided to stand up and fight for our beliefs:
Profit Over People!
Money=Speech!
Corporations are People Too!!
We hope to motivate concerned Billionaires and Oligarchs across this great country to oppose Bernie in every city and every state!
Like our Facebook page:
https://www.facebook.com/boobs2016
Join us for our first action in Phoenix, AZ where we will confront Bernie as he attempts to enter the NetRoots Conference Saturday July 18th! Connect with us via FB, Twitter or Email.
Posted on | September 19, 2009 | Comments
When the Phoenix Billionaires found out that local AFP organizer, Tom Jenney, was going to Scottsdale again to rally the teapartiers, we decided that his good deeds could no longer go un-rewarded.
Ol' Tommy played a little hard-to-get at first, but he relunctantly did accept our check made out to "Americans For the Prosperity of Koch Industries". We can understand his shyness, because before this we've been avoiding the public light as to our financing of the front groups. We're wealthy and proud and we're not going to take it anymore!
Posted on | August 8, 2009 | Comments
The original Billionaires For Wealthcare action to "support" the Tea Partiers at Harry Mitchell's office in Scottsdale, AZ in summer of 2009:
Thanks to Dennis Gilman for this awesome video!
Daily Kos coverage: